Read the full article to plan your wedding on THE KNOT
To plan your wedding can too easily turn into months of obsessing over endless details, pressing deadlines, family and drama. That's enough stress to make you just want to elope. To combat the insanity, we went on a mission to put the process to plan in perspective. Now you could pull off a big wedding in as few as 30 days (if you really wanted to!). The key to accomplishing it is to eliminate the panic-inducing extras and focus on the big tasks at hand. So the next time you feel like you'll never get it all done, rest assured, it's simpler than you think. Here, your cheat sheet and secret weapon against wedding planning meltdown mode.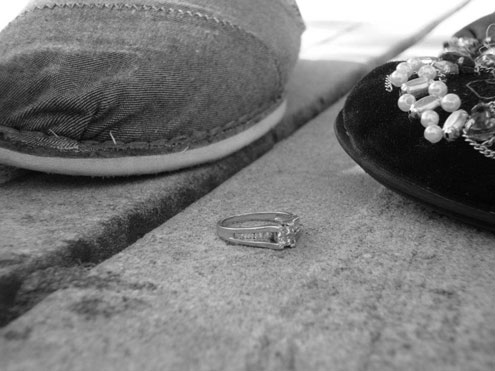 This Photo credit: Devon Thomas Jr. (EX25)
1. Knock out the three big essentials: budget, guest list, and style.
What's the dream reception look like? A small intimate dinner at your favorite restaurant? A dressy cocktail party? At the same time, figure out how much money you plan to spend. The average wedding in 2012 cost close to $29,000, not including the honeymoon. A big-budget influencer is the guest list. It costs more to invite more, so keep that in mind. Also, the average guest list is about 140 people. Because you're working within a short timeframe, and potential guests may have already made plans for the month, you'll probably end up with a smaller than average guest list.
2. Find and book a reception site, and set a date.
The usual suspects (country clubs, ballrooms, hotels) might already be booked for Saturday night but call them anyway and try for a Friday or even Sunday afternoon or evening. Also, think outside the typical wedding venue and consider nearby restaurants with event space or large rooms that can be sectioned off.
3. Start a wedding website and set up a registry.
It's free to create a website on TheKnot.com and having one is by far the best way to get info out to your guests quickly (and 30 days is quick!). Once you've set up your registries, link them from your website so that guests have an easy way to find where you're registered.
4. Send out invites.
Sure, you could email your guests but we think a more personal alternative is still the best route for a wedding invite. You won't have time for custom, but check out stationery stores around your area for pre-printed invites or look online (Wedding Paper Divas and Minted.com have a ton of designs). If you have an extra small guest list and good penmanship, you could even send hand-written notes. Just don't forget to include your wedding website on the card so that everyone knows where to go for more info.
5. Find a wedding dress.
There won't be time for fittings and custom orders but you still have a few options. Bridal salons host sample sales all the time where if you're lucky, you could buy and take a designer gown home with you same-day. Or, check out any number of popular ready-to-wear stores that are now carrying wedding-worthy white dresses. There's BHLDN with dreamy vintage-style dresses, Ann Taylor for classic and simple silhouettes, and even Nordstrom for the variety factor to name a few.
6. Decide on a suit or tux for him.
This should be easy enough. Similar to the wedding dress, there won't be time to go custom but you still have the option to rent a tux from a Men's Wearhouse type of place. For classic suits, try Brooks Brothers or check out any number of stores like Zara and Top Man for affordable and totally on-trend styles.
7. Pick your bridal party and tell them what to wear.
We recommend choosing a color and style and then asking your best girlfriends to find the closest match. So maybe it's that everyone needs to find a flowy chiffon dress in pink, or a knee-length dress in navy and any neckline goes. Or — if it works with your style — just ask them to wear their favorite LBD from their closet. The guys can rent tuxes, or you could have them wear their own suits and then buy them matching ties to coordinate the look.
8. Create an outline of the other vendors you need to hire and start inquiring about your date.
This is probably going to be your toughest task by far. At the very least, you're going to want to find a florist, photographer, videographer cake baker and band or DJ. Your best bet here: Let one vendor lead you to the next. If you find a photographer you love, ask them to recommend the rest of your vendors.
LET US HELP YOU PLAN YOUR EVENT
Now, you don't have to take on the task of planning your event for yourself. We at Events by Adhore, offer state of the art hybrid and virtual planning to help you make the most of your time and efforts. Please visit our Planning and decor page to read more about what we offer.