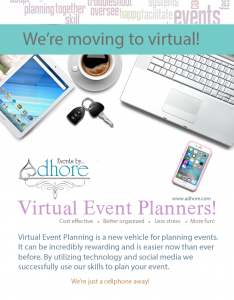 The virtual event planner is for the savvy bride who, whether she is on a tight budget or not, does not need the stress of doing it all on her own, she's guided through the process by a 'voice in her ear'.  Its the newest way that brides plan their event from start to finish all from their cellphones/tablet!
Our virtual concierge service is state-of-the-art.  It harnesses technology to get the job done!  Our team are masters in the area of planning and design as they are event business professionals who run their own event venues, graphics and decor business, so they know what's needed to pull off an event.  They've also planned their own weddings so they know a client's requirements for their big day.
How does our virtual planning work? 
We collaborate on planning through our online planning website/portal.  It has all the tools you'll ever need to plan your event from start to finish.  You'll get a budget, Things-To-Do lists, create your shareable Pinterest-like vision board, create seating charts, venue floorplan layout, team private messaging and free planning guides such as Day of Wedding and Wedding Planning timelines and a complete Wedding Planning Checklist.  You also receive your own customizable wedding website where your guests can rsvp to your event!  Use that information to create seating assignments, and check guests in on the day of your event.  This is all done from one place.  Your vendors can collaborate online with you as well.  Plus signing contracts and making payments are all done via the website.
Additionally, we communicate via phone calls, emails, conference calls and video calls if needed.  You'll be assigned a lead virtual planner who will work with you to create all the tools you'll need and ensure you are on top of your budget and timeline.
What is the difference between a Virtual Event Planner and a regular Event Planner?
The difference is simple, the Virtual Event Planner plans a complete event with their clients mostly online.  It eliminates the need for face-to-face/physical meetings thus cuts down some of the costs.  It means also that the planner can plan any event in any location regardless of where the planner and the event are located.  Its a great alternative for brides who still want to have control over planning their event, but be guided by their Virtual Planner.

O

UR VIRTUAL PLANNING PACKAGE: 

 $100 – $700

 (depending on your needs and where you are in your planning).  If we have an Event Planner in your area, and you need them to do a site visit at the venue with you and all the vendors after you decide on your venue, that cost is $50 for a 2-hour visit.  If you will also need a Day-of-Coordinator with a staff to oversee that everything runs smoothly and according to plan on the day of your event, to help with setup and also the breakdown of the event, that cost is an additional $750.
$100

1.

PAPERWORK:  Getting you organized

(a)

Set you up and anyone else you designate on the planning website and make all the planning tools available to you.

(b)

Design your digital save the date

, word your invitations

(c)

Create your timelines, checklists, and itineraries (downloadable or use on the website) ie: budgets, things-to-do, planning checklist, day of timeline, etc

(d)

Layout ceremony and reception order of events (timeline)

$150

2.

VENDORS: Time to bring in the professionals

(e)

Prepare all vendor questionnaires so you know what to ask when you seek to hire them.

(f)

Read and negotiate your vendor contracts, and manage and follow up with them.

(g)

Work with your venue to 

possibly obtain

 a 

venue site-

plan 

and design the layout of tables, chairs and 

vendor placement.

(h)

Help you to secure wedding/event insurance provider

(i)

Arrange site visit for relevant vendors at the venue

$125

3.

GUESTS:  Let's see who'll be there!

(j)

Help with managing your guest

'

s rsvp

(k)

Assist with travel and hotel accommodation

(l)

Create seating charts/assignments

$125

4.

DESIGN:  Let's talk style and colors!

(m)

Assist with styling, theme and decor elements

(n)

Assist with 

creating your

 design board

(o)

Help to source and stay on top of decor rentals and other rentals

$200

5.

THE EVENT:  Time for the events!

(p)

Help arrange the rehearsal dinner

(q)

Help with rehearsal details and work with Officiant

(r)

Work with and prepare your assigned person who will stand in as the Day of Coordinator client will assign this person to act as the liaison with our Virtual Planner).

(s)

Be on-call on the day of your event, liaising with your day of coordinator.

 

(t)

Ensure venue lockdown is complete so deposit can be returned

(u)

Coordinate with the coordinator for all rentals to be returned.

(v)

Coordinate sending out digital thank you card for guests.

This package allows for one 45-minute conference call per week with our planner and the client.  Otherwise, emails will be the main form of contact outside of using the planning portal. 
MASTERING THE ART OF COMMUNICATING VIRTUALLY
A big part of why many clients do not get the most out of using a wedding planner whether virtual or hybrid, is that the planner does not understand that each person communicates differently and each person is unique.  Each person's communicating and planning skills differ by their learning style; auditory (more phone calls), visual (more website and video calling), and kinesthetic (more email/texting).  As professional planners, we take your learning style into consideration to help us determine your communication preferences which help you to get the most out of working with us.
We'll help you decide which of the top 2 communication styles you are most comfortable with and we will discuss your preferences and take it into consideration when we match you with the right planner and utilize your communicating and operating preference throughout the planning.   Also, please use the following links to see our other services.
To make an appointment for our services, Click here