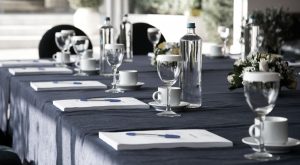 Events by Adhore's corporate events planners possess all the expertise needed to coordinate any corporate event of any size or scope while honoring your budget. Working with our professionals to plan your event, gives your team time to focus on their core competency while placing the responsibility of planning and executing the event in the hands of our seasoned professionals. Our planners will ensure your ideas translate into a spectacular corporate function that will impress your guests and drive your message home.
Planning a corporate event like a sales conference, gala, special anniversary, grand opening, client appreciation or holiday celebration requires a large amount of time and expertise that may not be skill sets that reside within your employee base. While Adhore can plan and execute any aspect of your event, we prefer a very personalized approach to planning so we can relate to the intention and desired experience, and review every item needed to make your goals come alive. We also realize where you will need assistance in order to allocate the right resources and provide the best fee. Our goal is to provide the best services, to respect your budget, and therefore have many in-house resources to satisfy both your needs and budget.
Comprehensive
Present venue options for your approval and conduct site visits.
Negotiate food and beverage fees and review and approve contracts to execute.
Present recommendations to you for entertainment, production, invitations, photography, videography, décor, flowers, favors, place cards and transportation.
Assume the role of the lead person for each committee chairperson and have consistent communication with them to know the status of their area such as a live auction, sponsors, tickets sales, etc. Attend meetings with the committee as needed.
Assist with Media/VIP check-ins.
Obtain any necessary permits.
Manage all event-related communication with hall management.
Create a Dropbox account for us to retain important documents.
Assist with creating an overall budget.
Negotiate fees to get as low as possible so you can make the maximum profit for the event. Try to find vendors that believe in your cause.
Create a spreadsheet of total costs per vendor, deposit due dates and final balance dates.
Obtain all RSVP's, answer any questions and provide you with a weekly list of attendees.
Manage the event in order for you to relax and enjoy.
Partial
Provide consultation related to the event timeline.
Provide consultation on vendors to hire.
Discuss a list of questions to ask of various industry professionals.
Review and provide feedback on marketing pieces.
Review vendor contracts to ensure costs and terms are acceptable.
Provide registration staff and greeters.
Be on-site to set up, execute and break down the event.
Please use the following links to see our other services: